Page component
Anti-privatization reporting form
Letter to the Premier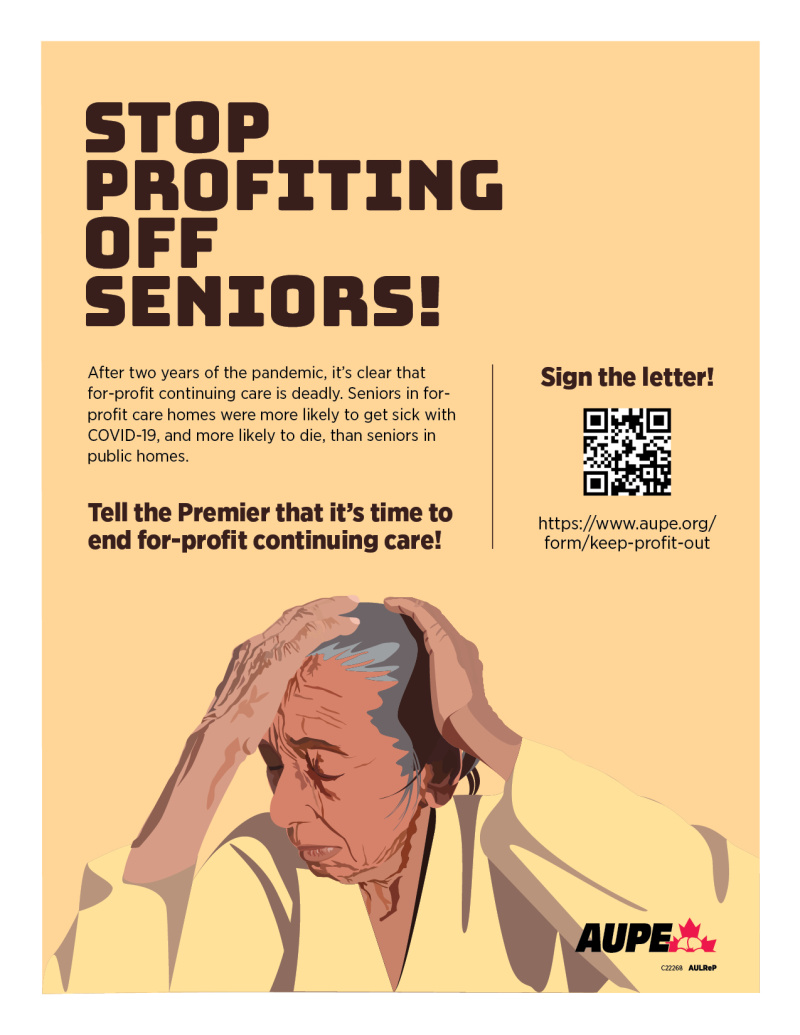 Keep Profit Out of Seniors' Care!
After two years of the pandemic, it's clear that for-profit continuing care is deadly. Seniors in for-profit care homes were more likely to get sick with COVID-19, and more likely to die, than seniors in public homes.
Tell the Premier that it's time to end for-profit continuing care!
Duties of the Anti-Privatization Committee
Text only block
AUPE's Constitution sets out the duties of the Anti-Privatization Committee as follows:
The Anti-Privatization Committee shall:
promote the education of the members and public as it relates to matters of privatization and contracting out;
lobby all levels of government with respect to privatization and contracting out of services;
coordinate with all other public service unions and federations;
report regularly to the Provincial Executive;
establish a data base, in coordination with other unions, of all efforts at privatization and contracting out and the results of these efforts;
draft presentations to be made by the President, or the President's designate, regarding matters of this Committee; and
promote the Policy Paper on Privatization and Contracting Out of Services as adopted by Convention.
Anti-Privatization Sub-Committee Protocols
Local elects or appoints Sub Committee member(s)
Local decides the number of Sub Committee members
Identify key issues on the work site(s)/in Chapter/Local
Education the Local Council on P.E.R.M.
Work on Local issues
Pass "global" issues on to the Standing Committee (i.e. advertising ideas)
Maintain communication with the Standing Committee
Maintain communication with other Sub Committees
Take a leadership role – educate your Local
Research Local issues
Forward Sub Committee meeting minutes to the Standing Committee
Myths about privatization
Text only block
What privatization means for your job
When we talk about privatization, it's important that we establish the stakes properly. There are lots of competing narratives about privatization, and the privatizers would love to confuse us with misinformation so that we don't know what we're fighting, or what to expect. But from the workers' perspective, the stakes need to be clear—our livelihoods are on the line.
 
Have you heard any of these myths about contracting out, from your boss or even a misinformed co-worker? Let's get to know some of the myths around privatization.
MYTH
We will get to keep our jobs but have a different employer.

When workers think of privatization, we often hear the idea that if the service is privatized, we will get to stay on. There might be some cuts to wages or benefits, but at least we will have some stability, right? Wrong!

REALITY
Everyone loses their job when services are privatized.

After a service is privatized, the entire staff is generally let go, and the contractor who has been hired begins building a new workforce.

Sometimes, that contractor might have a team ready to go, waiting in the wings, of their own staff. When that's the case, nobody—or almost nobody—will get re-hired by the contractor. You're out cold.

Other times, the contractor will look to build a workforce using workers from the recently-privatized service. In this case, some of your co-workers might get their jobs back—but everyone will have to reapply, and it will be at the discretion of the contractor whether or not you get re-hired.
MYTH
Privatized delivery means stripping away needless bureaucracy so workers can focus more on service provision.

If you listen to politicians talk about it, you might think that privatization is all about "efficiency" and making service-delivery better. As workers, we know all too well that our jobs are made unnecessarily hard because of so many layers of middle management. So, what could be bad about focusing on the essentials?

REALITY
Privatized services often force the workers who stay on to do more useless paperwork to track performance.

In fact, privatization doesn't mean focusing on the essentials—it means re-focusing on profit, rather than on providing services. We'll get into some numbers on this in section 2, but when it comes to your workplace, you need to know that privatization means that, if you're "lucky" enough to get re-hired by the contractor, you're more likely to have managers watching your every move and tracking performance.

When a profit-seeking company takes over a service, their main goal is to bank as much money as possible. That means that they need more metrics to track performance and make sure no one's slacking off—so they give you more paperwork to file to track your efficiency, which keeps you away from providing the services you were hired to provide.
MYTH
Working conditions don't change dramatically after privatization.

Some people believe—and privatizers encourage us to believe—that outsourcing will simply mean having a new boss to report to, while workers' jobs won't fundamentally change. Workloads should remain similar, and we might even get more efficient at doing our jobs.

REALITY
Privatized services are more short-staffed, less safe, and higher-stress.

In fact, privatized workplaces are almost always worse places to work than the public services they replace. Because companies are looking to make a profit above all else, they are more likely to cut corners—that means short-staffing, over-working, and disregarding of safety standards.

We've seen it across the board when privatization happens—workers are expected to "do more with less," and then get blamed when service quality declines. Our bosses try to cut corners on staffing to save some money and increase their profit margins, and we're left holding the bag.
MYTH
You keep your union contract after privatization.

This is a common misconception that ties into a lot of the myths we've talked about already.

We've heard co-workers say that if things really do get so bad after privatization, well then we'll just file a grievance about it and fight it that way. Unfortunately, privatization takes that option away by removing the protections that come with a union contract.

REALITY
If you get re-hired by the contractor, you will not have the same union contract and will likely not have a union at all.

When privatization occurs, the Alberta Labour Relations Board will decide whether or not your bargaining unit continues to exist under the contracted-out service. The vast majority of the time, the Alberta Labour Relations Board determines that the union no longer exists because the service is now a different enterprise.

That has a lot of implications—first off, all the gains that we have fought for over the years go out the window. Maybe your union contact has good sick day provisions that you and your co-workers prioritized—the new boss can get rid of those entirely and strip them down to the legal minimum. Maybe your collective agreement guarantees you a health spending account—the new boss has no obligation to continue that. If you're one of the "lucky" ones who gets re-hired, expect your benefits to be gone.

That's not all. When you have a union contract, you have protections for reporting and fixing problems at work—the most common use is the grievance process. Non-union workplaces don't have those protections, and if you're complaining, then your boss can retaliate against you much more easily. Having a union is about having power in the workplace, and an avenue to make your voice heard. Privatization is a way for employers to put up barricades on that avenue.