Committee contacts
Staff Advisor
Diana Griffith
Staff Admin
Ghanem AlAtasi
Page component
Text only block
AUPE's Constitution sets out the duties of the Occupational Heath & Safety Committee as follows:
The Occupational Health & Safety Committee shall:
review the practices and procedures relating to the Occupational Health and Safety of the members of the Union;
promote the Occupational Health and Safety education of the union members;
ensure that the membership is informed of all relevant information on Occupational Health and Safety;
promote any policy on Occupational Health and Safety as adopted by Convention;
review and spearhead occupational health and safety legislation and regulations and lobby for positive change;
draft policies, briefs and other presentations on issues of concern;
initiate action and participate in meetings, conferences, conventions and education courses on issues of concern relating to Occupational Health and Safety and co-ordinate these with other committees and organizations; and
regularly communicate with each Local's elected Occupational Health and Safety liaison.
OHS Quick Reference Guide
Text only block
With the support of AUPE's Education Department, the OHS Committee is proud to offer all AUPE members three valuable new resources.
The 8-minute animated orientation video, Being Your Local OHS Liaison
This package helps members elected to the role of Local OHS Liaison understand and fulfill their duties.
It also makes suggestions how to go beyond basics. Any worker can use these resources to:
educate your co-workers about their safety rights
have organizing conversations with your fellow workers to act together about health and safety issues
brush up on how to hold your employer accountable under Alberta's health and safety legislation
explore resources to keep learning about workplace health and safety on your own
Rolyn Sumlak Award
Text only block
Nominations now closed for 2023
The Rolyn Sumlak Award honors members who show dedication in encouraging health and safety measures in the workplace. The winner of the award will be an example to other members in raising awareness of Occupational Health and Safety issues and strives for a higher standard in health and safety on the job.
The award is named for an AUPE member who was killed on the job while working for the government of Alberta and is presented each year at the union's annual International Day of Mourning Ceremony to a deserving member.
The Committee shall make a final selection and notify the Local Chairpersons in mid April, with regards to the receipt and dispensation of their nominations.
Rolyn Sumlak Award - Past recipients
Text only block
1992
Dennis Mikalson, Local 012
Doug Moecki, Local 011
1993
Ann Hamilton, Local 009
Stanley Tomlinson, Local 003
1997
Tony Banack, Local 003
Nola Hambleton, Local 001
Susan Sawchuk, Local 057
1999
Debbie Simmons, Local 009
2000
Leane Lagasse, Local 001
2001
Mike Rennich, Local 003
2002
Michael Kennedy, Local 054
2003
Wesley Rusnell, Local 009
2004
Len Pederson, Local 002
2005
Tracey Courtepatte, Local 049
2006
Marlene Belich, Local 002
2007
Shirley Doerkson (in memoriam), Local 001
Coleen Young, Local 047
2008
Roy Warnock, Local 071
2009
Katherine Blake, Local 006
Ron Wright, Local 003
2010
Tony Mah, Local 038
Joanne Spencer, Local 046
Rick Stewart, Local 005
2011
Karl Pederson, Local 004
Monte Bobinski, Local 003
Lorraine Ellis-Barnaby, Local 002
2012
Mary Franklin, Local 042
Hal Griffith, Local 003
Jim Wilson, Local 060
2013
Roseline Bouchie, Local 001
Barry Madsen, Local 071
Sharon MacLean, Local 043
2014
Beverly Hill, Local 040
Larry Mydan, Local 002
2015
Wanda Parlin, Local 046
Michael Dyer, Local 004
2016
Roy Jackman, Local 003
Marjorie Hooker, Local 054
2017
Melanie Thompson, Local 054
Mark Ellis, Local 012
2018
Karie Burchill, Local 006
John Jones, Local 057
Lindsay Logan, Local 060
2019
Norma Jones, Local 095
2020
Diana-Lee Erickson, Local 048
Judy Fader, Local 043
Oscar Steiner, Local 003
Dean Walker, Local 005
2021
Stephen Caughie, Local 071
Jennifer Corkum, Local 046
Elizabeth Csernyanski, L 049
Bowman Pringle, Local 003
Frank Snow, Local 052
2022
Christine Scotland, Local 005
Coralie Podealuk, Local 002
International Day of Mourning
Text only block
More than twenty years ago, the Canadian Labour Congress declared April 28 a National Day of Mourning for workers who have been killed, suffer disease or are injured at work. Every year since, union members throughout the world mark the Day of Mourning to remember workers killed and injured on the job, the impact on their friends, colleagues and family members, and to recommit themselves to fighting every day for workplace safety.
In 2009, AUPE unveiled a memorial sculpture dedicated to AUPE members killed or injured on the job. The sculpture portrays AUPE members and family from each of the unions' four sectors gathered solemnly in remembrance around a miner's lantern – a key symbol of safety and hope in the International Day of Mourning.
Each year, a poem is read at the Day of Mourning gathering. The poem was written in the memory of Rolyn Sumlak, who died Oct. 9, 1990, by his friend and AUPE Local 012 colleague Dennis Mikalsen. On Apr. 28,1996, AUPE Health and Safety Specialist Dennis Malayko had the honour of reading this poem at the United Nations as part of a two-person labour delegation.
Someone by Dennis Mikalsen
Someone died the other day,
An accident is what they say
The boom went up and hit the line
The medics came but not in time
How could it happen we stare and say
We practice safety every day
We grieve with the family and do our best
To help each other through this test
Suddenly emerged from unseen forts
Inspectors chastise and make reports
Where were they before the day
A safety hazard took a life away
In a hurry running late
Do it now or it can wait
But the works important
Priority one, we can do it , if we run
Need more training, that's "OK"
But it can wait for another day
What? Staff unhappy all will be well
When we hear from personnel
Safety's important, it's not a game
That was the line before the budget came
Reduce your workload that's not what we meant
When we cut staff by ten percent
The more we do the more needs done
Building empires is really fun
Do your work and really care
The more you do the better I fare
The death of our brother was tragic and wrong
But he cared and our memories will be cherished and long
With his passing, our brother left something to do
The torch has been passed to me and to you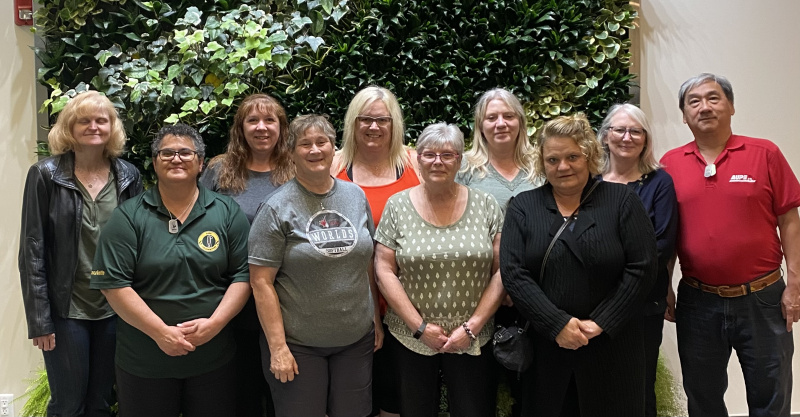 Occupational health and safety resources
Text only block
General links
2022 Rolyn Sumlak Award winners
Alberta Labour – Occupational Health and Safety
Alberta Labour OHS Guide for Young Workers
Alberta OHS Code Explanation Guide
Contact Alberta Labour Occupational Health Safety
EFAP Frequently Asked Questions – GOA
Indoor Air Quality/Mould Guidelines 2014
International Labour Organization – UN
National Institute for Occupational Safety and Health – USA
Occupational Safety and Health Administration – US
Printer Toner health and safety information
Scent-Free Workplace Primer – GOA
Workers' Compensation Board of Alberta Workers Reporting
Work Right from WorkSafe Alberta
OH&S legislation
Most employers and workers that AUPE represents are regulated under Provincial jurisdiction. Some employers, like Cargill, are regulated under Federal jurisdiction. If you are not sure which legislation you are regulated under, please contact your local OH&S committee.
Occupational Health and Safety Act – AB
Occupational Health and Safety Regulation – AB
Occupational Health and Safety Code – AB
Ticketing and Administrative Penalties – AB
Canada Labour Code Part II – Federal
OHS Programs
Occupational Health and Safety Programs are an important and developing tool for safer workplaces in Alberta. The Government of Alberta OHS Program for government worksites, implemented in April 2009, was the first comprehensive employer and employee developed program in Alberta. The purpose of any OH&S Program is to create safer, healthier workplaces for our members by giving staff and managers the information they require to create a consistent, code-compliant safety program.
Plans are moving forward for a Health Sector OH&S Program to ensure consistency in the hospitals and long-term care facilities. Lobbying for this program continues at this time, therefore no estimated implementation date is available.
Long Term Disability Insurance (GOA)
After an employee of the Government of Alberta has been off on general illness for a period of eighty (80) days, they could be found eligible for LTD benefits by the Plan Adjudicator (Great West Life). LTD benefits are 70 per cent of your salary at the start of general illness (see Article 33A of the Master Agreement). We would strongly recommend to allow time for processing, review and decision, that an application for LTD benefits be made in a timely fashion (as a guide approximately 30 days after being on general illness leave). The application form (Employee's Statement) and the Notice of Appeal (in the event the application is denied or LTD benefits are discontinued) are now electronically available at the links below.
Return to Work Guidelines – GOA
Telecommuting Guidelines – GOA
OHS advocates should use the online health and safety issue reporting form to document OHS issues at their worksites.