AUPE Executive Statement: Black Lives Matter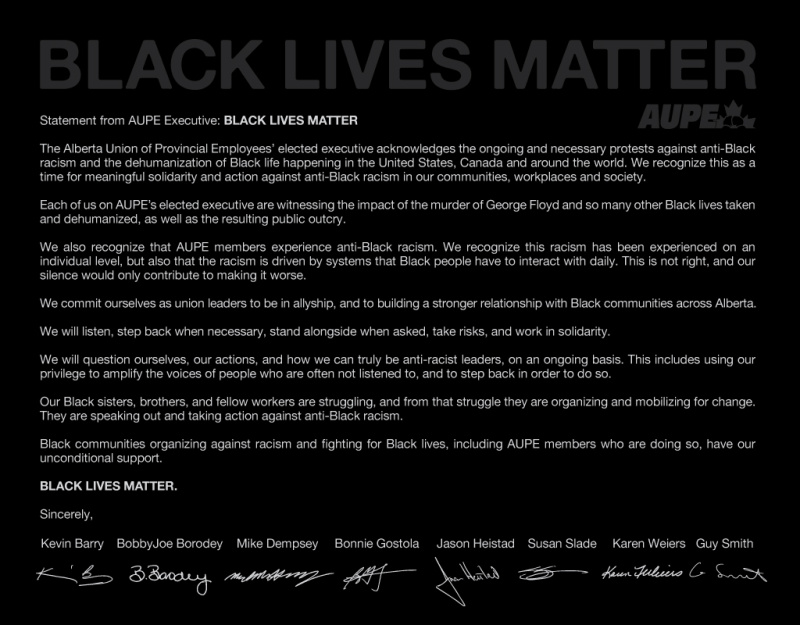 Statement from AUPE Executive: Black lives matter
Text only block
The Alberta Union of Provincial Employees' elected executive acknowledges the ongoing and necessary protests against anti-Black racism and the dehumanization of Black life happening in the United States, Canada and around the world. We recognize this as a time for meaningful solidarity and action against anti-Black racism in our communities, workplaces and society.
Each of us on AUPE's elected executive are witnessing the impact of the murder of George Floyd and so many other Black lives taken and dehumanized, as well as the resulting public outcry.
We also recognize that AUPE members experience anti-Black racism. We recognize this racism has been experienced on an individual level, but also that the racism is driven by systems that Black people have to interact with daily. This is not right, and our silence would only contribute to making it worse.
We commit ourselves as union leaders to be in allyship, and to building a stronger relationship with Black communities across Alberta. We will listen, step back when necessary, stand alongside when asked, take risks, and work in solidarity. We will question ourselves, our actions, and how we can truly be anti-racist leaders, on an ongoing basis. This includes using our privilege to amplify the voices of people who are often not listened to, and to step back in order to do so.
Our Black sisters, brothers, and fellow workers are struggling, and from that struggle they are organizing and mobilizing for change. They are speaking out and taking action against anti-Black racism.
Black communities organizing against racism and fighting for Black lives, including AUPE members who are doing so, have our unconditional support.
Black lives matter. 
Sincerely,
Guy Smith, President
Jason Heistad, Executive Secretary-Treasurer
Kevin Barry, Vice-President
Bobby-Joe Borodey, Vice-President
Mike Dempsey, Vice-President
Bonnie Gostola, Vice-President
Susan Slade, Vice-President
Karen Weiers, Vice-President