By Alexander Delorme, Communications Staff
Text only block
It is not a good time to be Premier Jason Kenney. It is an even worse time to be an Albertan suffering the effects of his malicious, destructive, and reckless agenda.
Kenney is the least popular Premier in Canada. Angus Reid Institute research shows that less than one third of Albertans approve of Kenney's leadership, which is almost a 10 per cent decrease in support since March 2021. Another recent poll commissioned by Postmedia shows seventy-eight per cent of Albertans do not believe Kenney's government has handled the pandemic well.
According to AUPE President Guy Smith, no one should be surprised by Kenney's tumble down the polls, least of all Kenney himself.
"What did Premier Kenney think was going to happen?" asks Smith. "The man has gift-wrapped huge tax giveaways to rich corporations, completely mishandled the pandemic, threatened Alberta's beautiful environment and parks, has fired hundreds of government employees and staff in post-secondary education, wants to fire thousands of health care workers, and is trying to force huge rollbacks and cuts onto the Albertans who keep this province working. Did he expect all that to be popular?"
The more you review the list of damaging things Kenney and his UCP government are up to, the more it seems they really do not care what Albertans will think of them. This includes the scandals too, such as Aloha-gate, when UCP politicians and staff were found to be vacationing abroad during heightened December COVID restrictions, and the Sky Palace party, where Kenney and key Ministers were photographed having dinner with apparent disregard for restrictions on gatherings.
Kenney's actions as premier fall into two categories: on the one hand, bumbling and incapable of supporting Albertans; on the other hand, ruthless and destructive. Is he just careless or cruel?
"We can't fall into the trap of thinking Kenney is merely incompetent. He's a schemer and fancies himself a political mastermind. From his attacks on workers to the systematic dismantling of our public services, most of what Kenney's pride has wrought is intentional."
Text only block
Albertans are wise to Kenney's great failures and despicable triumphs. Despite the premier's insistence that this will be the best summer ever—Calgary Stamped included—Albertans are not distracted from his shameful record.
 
"Kenney is desperate to make himself look good," says Smith. "More than that, he is desperate for a victory—any victory—after a long streak of scandals and failures. AUPE members should expect him to pick fights with us. But we won't let him have his victory." 
If a premier wanted popularity in the middle of a once-in-a-generation pandemic, one would think they'd do everything in their power to support public health care. Instead, Kenney and his lackey Health Minister Tyler Shandro have instructed Alberta Health Services (AHS) to move forward with huge job cuts and privatization. 
At the bargaining table, the AUPE Nursing Care and General Support Services negotiating teams submitted proposals that prioritize job security and work-life balance. AHS countered with their own insulting proposals, including wage rollbacks, huge cuts to weekend premiums and shift differentials, and taking away super-stats and floater days.
More recently, AHS has started attacking the 11,000 workers Shandro threatened to fire last year. So far, AHS has handed over all remaining public hospital laundry services to K-Bro, which killed 428 jobs in rural Alberta, and announced plans to axe another 237 jobs in ancillary food services.
These workers showed just how angry and determined they are with the wildcat strike last October, and Kenney knows a threat when he sees one. Surely, he wants to divide and conquer health care's frontlines. But he won't stop there, and Smith believes the next big fight Kenney's picking is with his own Government of Alberta staff.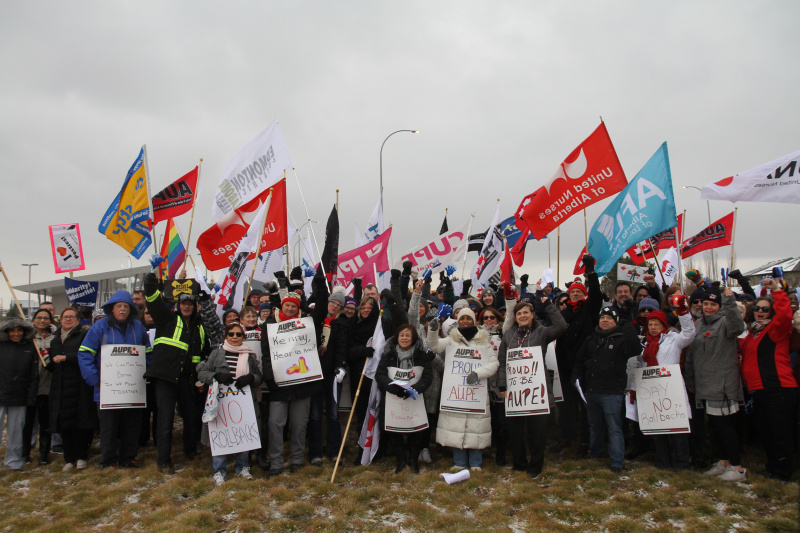 "The Government of Alberta has launched a serious attack on its own workers," says Smith. "I've never seen such disrespect at the bargaining table from an employer." 
The government's negotiators have proposed a 4 per cent wage roll back, and even more for some classifications, followed by three years of zeroes, plus numerous cuts to other monetary provisions and benefits. They have targeted a total of 2,500 jobs, claiming the eliminations will save money. In reality, cutting jobs and reducing the public sector only makes programs more inefficient and expensive, and it's Albertans who pay for the reductions.
Having been met by the Government of Alberta with unreasonableness and unfairness at the bargaining table, members and the employer are now proceeding to informal mediation. Once an Essential Services Agreement (ESA) is in place, the parties will engage in formal mediation which, if it doesn't result in a tentative agreement, could lead to the government to lockout its own employees to try and force them to take rollbacks and concessions.
"There's no way we would agree to their proposed rollbacks. The government seems determined to ignore reason and so negotiations could be headed for a lockout. Whatever happens, AUPE members will be prepared to fight." 
Text only block
Kenney wants to defeat public sector workers, but he can only do that by betraying his own supporters. Many of his job cuts target rural Alberta, where Kenney's UCP received a lot of votes. That includes jobs in Wildfire Management, Forest Management, Forest Health, Agricultural research, support for farmers, post-secondary institutions across the province as well as a large portion of the aforementioned 11,000 health care positions.
His recklessness is a sure sign of his desperation to win. What's worse, he has a final gambit tucked away which he could use to try to stop Albertans from fighting back against him.
Kenney's UCP government passed Bill 1: the Critical Infrastructure Defence Act, in May 2020. The Bill would allow Kenney to shut down protests wherever he wants. It does this by listing off numerous examples of "critical infrastructure" and stating Albertans are not allowed to enter, obstruct, interrupt, or interfere with them.
This would have a huge impact on protests, including strikes! What's worse, the Bill allows for protestors to be arrested without a warrant. University of Calgary law professors say the Bill violates our Charter of Rights and Freedoms, and others argue it is racist against Indigenous people.
Kenney has kept this card close to the chest. He has not evoked Bill 1 to shut down a protest or demonstration yet, so no one has been able to formally challenge the Bill.
Smith also believes the Bill violates the Charter of Rights and Freedoms, and AUPE has filed a court challenge; but he reminds AUPE members to trust in their own collective power when the time comes to fight back. 
"They courts may strike this Bill down eventually, but that is not where we should place our hopes," he says. "Taking Kenney to court is just one way for us to fight back, but it is also a process that can take a long time and is largely out of our hands."
"Kenney's final defeat will come at the hands of working Albertans. We are the people, we do the work, we run the province, and we demand a government that works for us, not the rich and powerful. We must unite in solidarity to stop Kenney's reckless agenda, which he shows no signs of abandoning. Our struggle goes on."