This is how communities get through difficult times
Text only block
By Terry Inigo-Jones,
Communications staff
It turns out your grandma was right. A little thank you goes a long way.
Albertans know that front-line worker have been making huge sacrifices to care for and provide services for them during the pandemic.
These dedicated workers risk their health and their lives and, tragically, some have died – all in the service of others.
Knowing that their efforts are appreciated means a lot.
The Family and Resident Council at CapitalCare's McConnell Place West in Edmonton sent this letter to the editor at the Edmonton Journal. McConnell Place West is designed specifically for people with mid-stage dementia.
THANK YOU on a JOB WELL DONE
 
The Family and Resident Council for residents of McConnell Place West. This is a congregate living, Designated Supportive Living, home to 36 residents who are our family and loved ones.
All the residents suffer from Dementia. We want to acknowledge each and all of the staff, and leadership of this facility. Their competent caring care and has been remarkably successful in holding COVID-19 at bay. Through their considerable effort, and personal sacrifice, and in spite of two staff testing positive for COVID, not one resident has contracted COVID.
That is to be commended and celebrated and widely applauded.
Thank you for helping us make this public and for providing the public an opportunity to know that it can be, and has been done. We are immensely grateful and want to fully and publicly support these hard working men and women who provide essential care. THANK YOU.
Janet Franklin on behalf of the McConnell Place West Resident and Family Council
Finding new ways to say thanks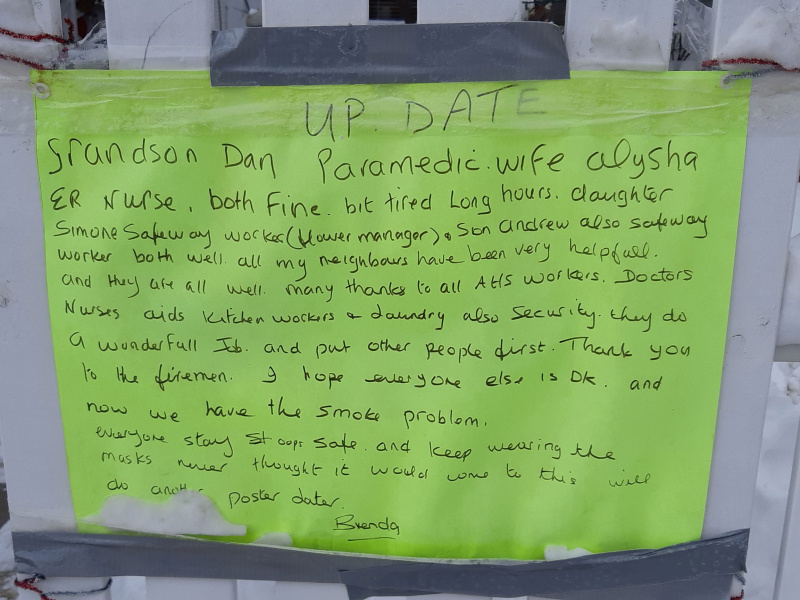 Meanwhile, a resident in the West Hillhurst neighbourhood in Calgary posted the sign in the photograph on the fence of her home.
With it being harder to visit in the of homes of friends and family, people are finding new ways to communicate.
The sign says:
UPDATE
Grandson Dan Paramedic. Wife Alysha ER Nurse, both fine. Bit tired. Long hours. Daughter Simone Safeway worker (flower manager) & son Andrew also Safeway worker both well. All my neighbours have been very helpful. And they are all well. Many thanks to all AHS workers. Doctors, Nurses, aides, kitchen workers and laundry, also security. They do a wonderful job. And put other people first. Thank you to the firemen. I hope everyone else is OK.
It is signed Brenda.
If you want to say thank you to front-line workers, please email a message or photos to albertacares@aupe.org.