Page component
The countdown is on - change needed now
Text only block
The majority of Alberta's COVID related deaths have been in continuing care. Just last week (June 10), Albertans woke up to the news more people have died in these facilities in our province than in British Columbia, even though COVID-19 struck B.C. five weeks earlier.
Alberta is already entering into stage 2 of the provincial re-launch, and the UCP still have not addressed long-standing issues in the continuing care system that led to this tragedy.
Read about the root of the problem below, then scroll to the bottom to see how you can push for change in the week leading up to Father's Day. Read the messages AUPE Executive members sent to Minister Shandro on Mother's Day to help you with your messaging!
Text only block
Continuing care's pandemic response is a big problem – time for a big solution
Standardizing bargaining and pay needed to stabilize the system
One of the major drivers in Alberta of the spread of infections of COVID-19 has been continuing care sites.
As of May 3, 2020 Alberta lists 47 workplace outbreaks in the province. 31 of those are in continuing care facilities, or 66% of the locations.
The numbers tell another story still when we look at the delivery model.
Only 6 public centres were experiencing an outbreak, while the private sector is responsible for the remaining 25 locations including 18 at for-profit centres such as Millrise Place.
Alberta is home to a confusing maze of multiple providers – with fewer and fewer homes operating on a not-for-profit basis. Just finding out if a home you are considering moving to is for-profit or not is hard enough to find out.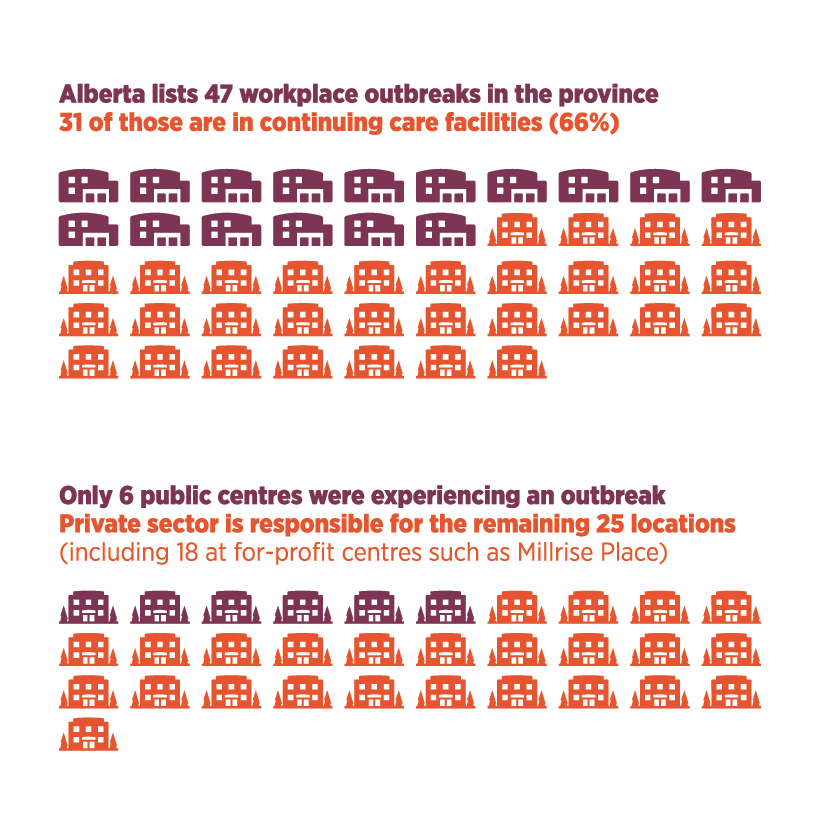 What does this mean for quality care?
The fractured system has produced a highly unequal working environment for care givers and support workers. Some facilities barely pay above minimum wage. Starting wages in private care include housekeepers at Millrise Place $15.46 an hour, a laundry worker at AgeCare Walden Heights only $15, kitchen staff at Points West Living Stettler making $15.78.
This means more staff turnover as workers who support their families move on to higher paying jobs. Instead of lasting relationships between residents and staff, a precarious workforce means residents have to adjust to new staff – and the cycle repeats once a better paying job opens for those staff.
One solution: standardize bargaining and pay
In British Columbia, a 1991 Royal Commission on Health Care noted that having multiple employer bargaining associations would not encourage "uniformity of working conditions", and they recommended the establishment of a stable labour and care regime.
This brought all publicly funded long-term care employers under one bargaining associations – and their unions went to the table together too.
Through this they fixed the problem of inequality between facilities as all workers were paid the same rates, and they were provided consistent benefit and pension coverage as well.
This also meant more leverage for workers at the bargaining table who were able to win language protecting them against contracting out of care and services – a big win for longer lasting resident and staff relationships.
We can do this here
It's true that AUPE members have also offered a simpler solution – bring all continuing care homes under public operation. That's the urgent goal – although one that this government might not agree with in time to save lives.
While the private continuing care sector still exists we shouldn't punish workers with unequal treatment based on which publicly funded operator cuts their paycheque, and we shouldn't punish residents with a revolving door of precarious workers.
Standardized bargaining and pay can ensure equal treatment while improving the resident experience.
A modern approach should also include designated supportive living (DSL) facilities with long-term care as the acuity in DSL sites continues to rise with comparable skills and workload needed in either long-term care or DSL units.
Call the Minister - a gift for dad
Text only block
This Father's Day, you might not be able to visit the father figures in your life, but that doesn't mean we can't celebrate and honour elders.
In lieu of a visit, AUPE is encouraging all members, their neighbours and Albertans to make a call to Health Minister Tyler Shandro and change the course of the continuing-care industry.
Show you care. Call the dads in your life, then call 780-427-3665. You can politely but firmly request a call with your Health Minister to discuss these issues. Be persistent but fair with the staff you talk to.
None of us can do this alone. One call won't make a difference, but flooding the Ministers Office will. Tell them why you're calling – who's the mother in continuing-care or on the frontlines that you're standing up for – then:
Ask what the UCP are doing to fix the problems of inequality and understaffing in continuing care.
If you agree we should standardize bargaining and pay, let him know.
You can also send Minister Shandro an email at health.minister@gov.ab.ca to let him know he has options to improve the system for residents and staff
AUPE members call on the health minister
Text only block
Below are some of the emails our union representatives sent to the Health Minister on Mother's Day. Let's keep the momentum going.
Want to show your fellow members what they can say to the leaders of our province? Send us your calls-to-action, emails and conversations to albertacares@aupe.org and we will share them anonymously on this page.
AUPE Vice-President Karen Weiers writes:
I believe this pandemic has truly shown the dire straights that these private for profit facilities are in and I am requesting that all private for profit and private for non profit, now become publicly run, and publicly delivered care facilities.  Senior's care should not be a commodity, it should not be something that companies can profit from.
Read the full email. Download the PDF below.
AUPE Vice-President Mike Dempsey writes:
The majority of Covid 19 cases and deaths occur in the private facilities, not public ones. This was inevitable, and made all the more apparent to the people of Alberta when this public health crisis exposed the fragility of the present system.
Read the full email. Download the PDF below.
AUPE Vice-President Kevin Barry writes:
TIME is now once to again make seniors care in this province a public responsibility.
TIME is now to respect the many workers who support our seniors in our health care system. TIME is now for you as health minister to stand up to the ideals you swore to uphold to protect the citizens of this province when the TIME came.
Read the full email. Download the PDF below.