Page component
Upcoming information pickets
Text only block
Tuesday, November 5 in Calgary:
Where: South Health Campus; 4448 - Front St SE, Calgary, along Seton Boulevard
When: 11:30 a.m. – 1 p.m., Tuesday, November 5
Who: All AUPE members and our supporters are invited to join during their non-work time!
Contact: David | chairlocal095@aupe.ca | 403-605-5237
Wednesday, November 13 in Devon:
Where: Devon General Hospital, 101 Erie St S, Devon (picket along Devonian Way and Highway 60)
When: 11:30 a.m. – 1:00 p.m.
Who: All AUPE members and our supporters are invited to join during their non-work time!
Contact: Teresa Bergen | teresa666@live.ca | 587-982-2723
Monday, November 18 in St. Paul:
Where: St. Paul Health Centre; 4713 48 Ave, St. Paul
When: Noon – 1 p.m., Monday, November 18
Who: All AUPE members and our supporters are invited to join during their non-work time!
Contact: Tracy Pendleton | 306-304-2859
Thursday, November 21 in Calgary:
Where: University of Calgary at the Taylor Quad, in front of the MacEwan Student Centre
When: Noon – 1 p.m., Thursday, Nov. 21.
Who: All AUPE members and our supporters are invited to join during their non-work time!
Contact:Justin Huseby, chairlocal052@aupe.ca, 403-880-1689
Brace for cuts to services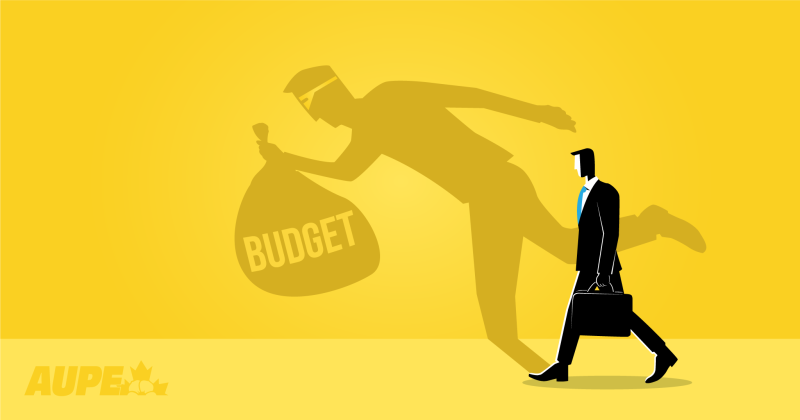 Job-killing Alberta budget is a sign of the fight ahead
The Finance Minister is calling it a surgical approach to cuts. But no matter how you slice it, we will be paying for billions in tax breaks the government is giving to big businesses. The budget made clear how we'll have to pay: With job losses and underfunded, understaffed public services.
Bill 9 basics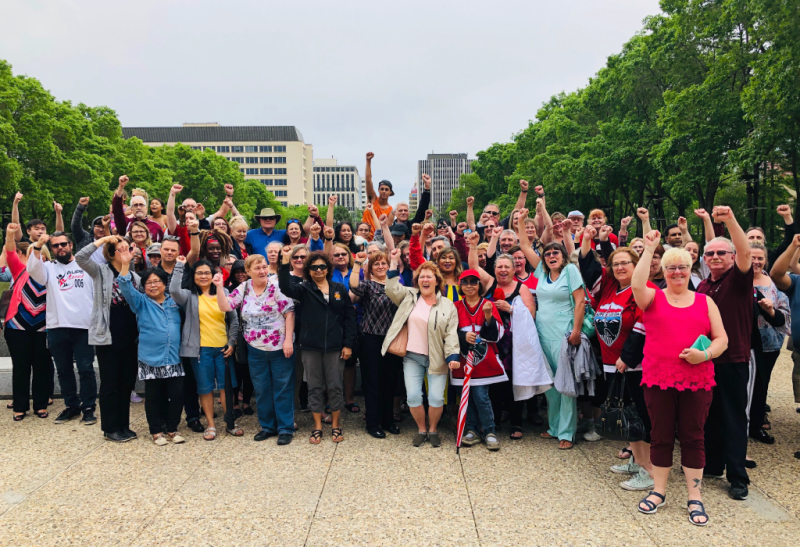 Five things you need to know about the Public Sector Wage Arbitration Deferral Act (formerly Bill 9)
The attack began in the early hours of June 20 when the UCP dropped Bill 9 to abolish the June 30 deadline AUPE members employed by Alberta Health Services (AHS) and the Government of Alberta (GOA) were promised for third-year wage arbitrations. The government passed the legilsation also knowing it could potentially undermine the rights of many other members working in post-secondary education, and boards and agencies who won wage reopeners in bargaining.
On June 28, Bill 9 received royal assent. It's now the law, but the battle is far from over. Here's what you need to know to continue your fight against this unfair legislation.
1. The UCP cut off debate to ram Bill 9 through the Legislature.
Not only is the government trying to take away your legally negotiated rights, they also undermined the democratic rights of elected representatives to speak on your behalf. Opposition voices in the Legislature were silenced, so workers' voices need to be heard in other ways. The fight is not over. In fact, it's only just begun.
2. This is the first step in a bid to freeze or cut your wages.
The UCP government wants to delay arbitration hearings on your wages until Oct. 31, 2019, well after its hand-picked "Blue Ribbon" panel reports in August with recommendations on where to cut spending.
The government has stacked this panel with people who agree with that approach. Janice MacKinnon, the chair of the panel, has previously called for two-per-cent cuts to public-sector pay and claims that the government has a right to legislate wage rollbacks on union members.
*Spoiler alert*: The panel's report will argue we can't afford to invest in public services or even a modest wage increase, while conveniently ignoring both our revenue problem, and the government's recent decision that it can afford a huge corporate tax giveaway. The government will use the report to justify an attack on our wages, our jobs or both.
3. If they break these contracts now, how far will they go?
We all know a contract is a contract, but apparently not when it comes to working people. About 60,000 AUPE members working for AHS and the GOA are affected by Bill 9. These members have accepted two years of wage freezes, with the legally binding agreement of wage arbitration in the third year. This arbitration hearing began on June 11, continued on June 17, and was scheduled for June 21 and 22. The Public Sector Wage Arbitration Deferral Act has stopped those last two meetings in their tracks.
The impact of the legislation isn't just on the members in AHS and GOA, but all members who count on the stability of the terms outlined in their collective agreements. For example, more than 10,000 members working in some Post Secondary Education worksites and some Boards and Agencies are scheduled to enter wage-reopener arbitration as well.
4. They're trying to legislate because they know that an independent arbitrator might make a decision they don't like.
The arbitrator considers all economic conditions and evidence submitted by both parties, and makes an independent ruling based on the facts.
There is no economic or labour-relations justification for wage freezes or rollbacks. If the government can afford massive tax breaks for profitable corporations, it can afford modest increases for front-line workers.
But why would they let the facts get in the way of their political agenda?
5. AUPE members won't accept being treated this way.
AUPE members know a deal is a deal. They expect the legally binding rules established in their collective agreements to be mandatory, not optional. And they expect our province's leaders to be honest about the state of Alberta's economics, not overestimating the deficit and using it as an excuse to shortchange working people. That's why AUPE is fighing back in the courts and on the ground, joining forces with other unions affected by the legislation, while union Executive continues to engage conversations with elected leaders and activists across the province.
In a show of defiance and solidarity, members gathered at the Legislature on June 13 to protest this unfair and illegal attack.
Since then member-led information pickets have been springing up across the province. Where will the next one be? To organize a safe and legal information picket, please contact us at 1-800-232-7284 or organize@aupe.org. We can talk you through the process.
It's crucial to remember that refusing to work as a form of formal protest can put you at risk. Please contact us if you have questions. We can help ensure you work within the legal framework and stay safe while still voicing your concern and solidarity with your fellow public-sector workers across the province.
Make sure your email address and phone number is up to date so we can reach you, and we can keep fighting back together.
Don't forget, we've been here before and we've won.
In 2013, a previous Conservative government tried to use legislation to impose pay deals on workers. We stopped them. Now, we need to stop them again.
Brace for cuts to services
Text only block
Why do we think cuts to services are coming?
Because the government has said so.
In the 2019 election, the UCP pledged to, at best, freeze spending for four years. When you factor in the increased costs due to predicted population growth and inflation, this amounts to a cut of $13.74 billion dollars over those four years.
After being elected, the Alberta government commissioned the hand-picked blue-ribbon MacKinnon panel to look into the province's finances and find a way to balance the books. However, the panel was forbidden to look at revenue.
It was not allowed to consider cancelling or reducing the $4.5-billion tax giveaway to already profitable corporations. It was prevented from looking at ways to increase revenue.
The only option given the panel was to make massive cuts to spending.
In the report, Janice MacKinnon says freezing spending at current levels isn't enough. It must be cut by $600 million per year.
After the report was released, Finance Minister Travis Toews went further.
In a speech to the Calgary Chamber of Commerce, he said the cuts recommended by the MacKinnon report might not go far enough.
"My expectation is it's going to have to be more than $600 million," he said.
Premier Jason Kenney agrees. Asked if he'll blink on making tough spending cuts, he invoked former Prime Minister Pierre Trudeau's historic three-word rebuttal. "Just watch me," Kenney said.
Why do we think cuts to jobs are coming?
Premier Kenney has admitted publicly that jobs will be lost. He says the budget will lean on the recommendations of the MacKinnon report. He says, for now, that lay-offs will be minimized, but that the government will maximize attrition.
What will that attrition look like?
The MacKinnon report included research that shows 5,000 staff at Alberta Health Services (AHS) will be eligible for retirement in the next four years. A total of 6,100 employees in core government departments will be eligible to retire in the same period.
We need look only to Manitoba to see how this will likely play out. The Conservative government there said it was going to cut 1,200 civil service jobs. In the end, it axed 2,000 of those jobs, a cut of about 13 per cent.
AUPE members and other public-sector workers are already reporting that they are frequently working short of staff, being asked to do more with less and cover for missing colleagues.
This shortage is already causing problems delivering the vital services Albertans need, including health care and education. Just ask any family with a member in hospital or a care facility.
Imagine, then, how much more services will deteriorate if thousands of positions aren't filled as people leave. And imagine adding to that the lay-offs that will come because the government can't save $600 million per year through attrition alone.
We need you to join the fight back against cuts
Jason Kenney campaigned on a pledge to create jobs. Instead, he's going to destroy jobs and devastate services.
If you have a loved one who is sick, if you have a child in school or pursuing post-secondary education, if you are disabled, if you are poor, these cuts will hurt YOU!
AUPE's fight-back campaign against the cuts is about far more than protecting the jobs and rights of union members, as important as that is to us.
We're in this fight on behalf of ALL Albertans, because we know all Albertans deserve better and need better.
We cannot stand by and allow Albertans to suffer unnecessarily while the government gives away billions of dollars to already profitable giant corporations.
 Yes, you read that right. It is billions of dollars. About $4.5 billion will be given to already profitable corporations in tax giveaways in four years, leaving businesses paying a lower rate than most working Albertans.
That's not fair. That's not the Alberta way. That's why we fight.
Other things you can do now
Text only block
Talk to your coworkers
Ask them how they feel about the Blue Ribbon Panel, Bill 9 and this illegal attack on your rights, your wages and your jobs. Talk about taking action. Help your coworkers join the fight.
Stay up-to-date
Keep visiting aupe.org/fightback on your non-work device or computer during your non-work time and stay tuned in to our info-picket schedule.
Remember: refusing work as a form of formal protest can put you at risk
Contact AUPE's Organizers
Text only block
Please contact AUPE's Organizers if you have questions at the number below or by emailing organizing@aupe.org. 
AUPE's Organizers will help you stay safe and protected while you fight back.
AUPE staff contact
AUPE staff contact
Organizing
The Organizing department assists members with bargaining, mobilization, political campaigns and engagement--contact if you're interested in joining AUPE.